Name: Nightshade (Maybe Nightstar?)
Age/gender: 36 moons
Rank: warrior (Maybe Leader?)
Clan: StormClan
Appearance: Nightshade is a dark grey shecat with a white left front paw, and right hind leg stocking. She has a lone stripe on her tail. Nightshade has blue eyes and a light grey patch of fur on her head, with a black stripe running through it. (Image = ME! Not good pic, srry, only one I have on hand. Cat on left)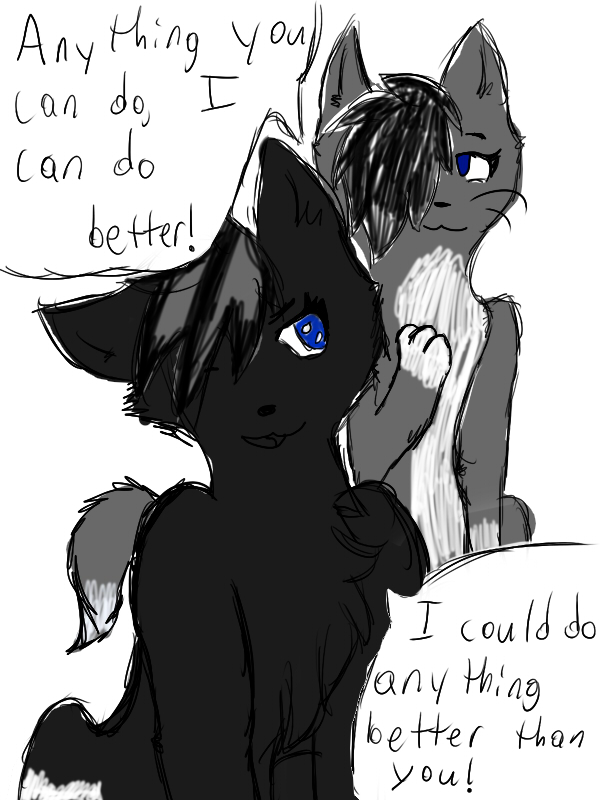 Personality: Nightshade is a serious she-cat, and she can drain the laughter from any area. She is all business no pleasure, and she wont take no for an answer. Nightshade answers words with claws, and is easy to go to battle. Nightshade cannot take anything but perfection. You know she is extremely upset when her voice goes dangerously low.
Skills: Strengths- fighting and strength  Weaknesses- Stamina and hunting
Family: Her mother, a brown spotted she-cat, is now a kittypet. Her name is Mousse. Nightshade's father, Smokecloud, was killed by a Doberman while protecting Mousse. Nightglide's sibling, Blackmist, is alive but Nightshade doesn't know where she resides. Nightshade used to fight Blackmist for no reason.